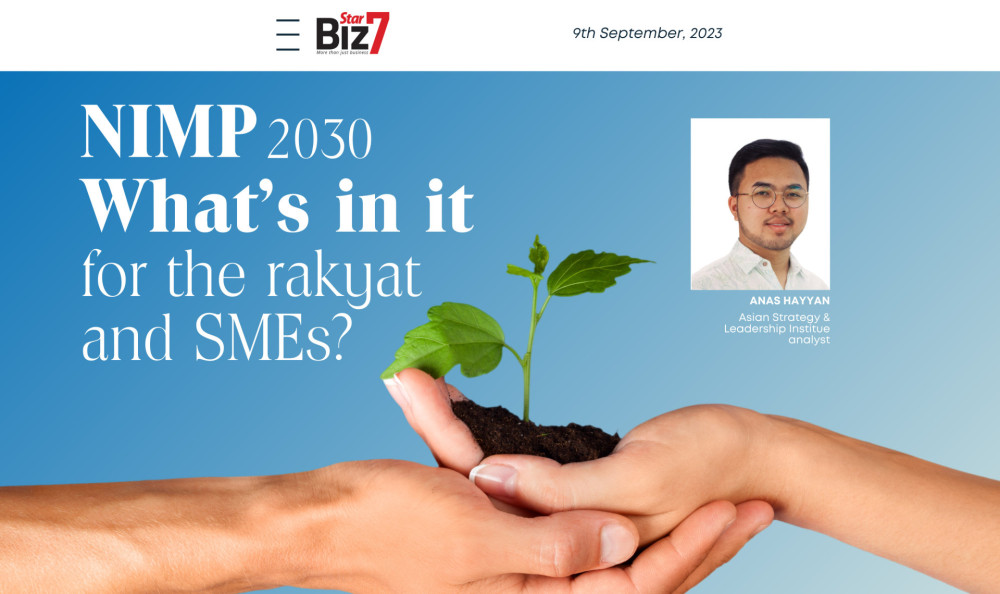 The National Industrial Master Plan 2030 (NIMP 2030) has been spotlighted in the latest StarBiz7 newspaper issue, where Anas Hayyan, ASLI's analyst, delves into the government's new strategic document. Here are the main takeaways:
Focus on SMEs: SMEs are central to the NIMP 2030, acting as the backbone to rebuild the middle class. The government aims to bolster their global competitiveness, ensuring they're integrated into global supply chains.
Quick Turnaround: The seven-year timeframe (2023-2030) is shorter than previous plans, indicating a sense of urgency for change.
Integration with Current Policies: NIMP 2030 needs to align with ongoing initiatives, like the National Energy Transition Roadmap and Ekonomi Madani.
SMEs in Manufacturing: By 2030, NIMP targets to achieve a contribution of RM587.5 billion, focusing on elevating SMEs' role. A shift towards ESG (Environmental, Social, and Governance) is emphasized, reflecting the global importance of sustainability.
Employment & Wages: NIMP 2030 projects employment to rise to 3.3 million by 2030. However, amidst automation trends, it's crucial to equip the workforce with high-tech skills. The plan also sets an ambitious salary goal, aiming to nearly double the median salary by 2030.
Implementation: A Delivery Management Unit (DMU) will ensure effective execution, aiming to streamline processes across sectors.
In conclusion, NIMP 2030's success hinges on unified efforts to actualize its visions. For a detailed dive into the article, visit https://starbiz7.com.my/