This event has ended.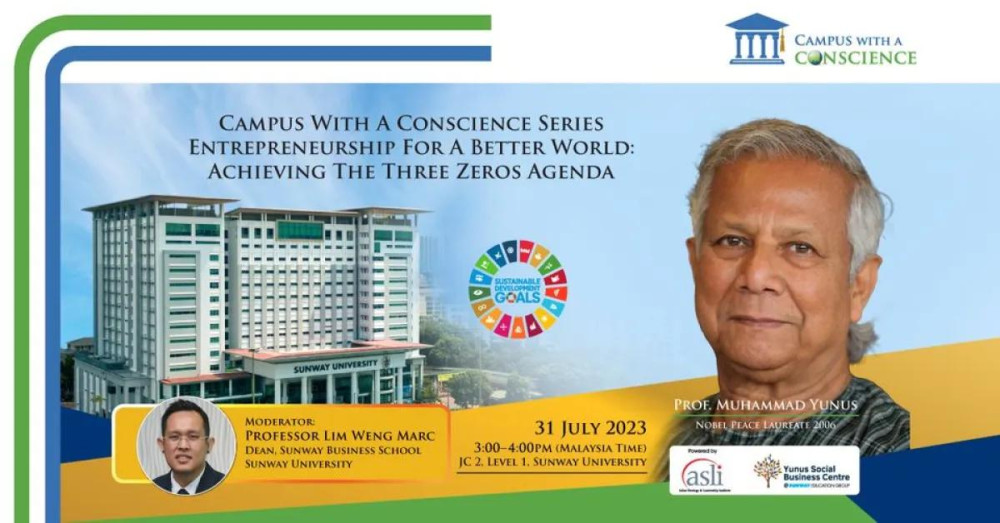 The Series:
Campus with a Conscience is a platform showcasing movers & shakers, experts, changemakers, and policymakers from institutions of higher learning, NGOs, private and public sector sharing insights into global challenges facing our society today. Learn how you can be part of the solution through practical takeaways. Come join us via this interactive platform and be part of the generation that will make a difference.

The Speaker:
Professor Muhammad Yunus is the founder of Grameen Bank, pioneering the concepts of microcredit and social business, and founding more than 50 Social Business companies in Bangladesh. He is the recipient of 63 honorary degrees from universities across 26 countries. Professor Yunus has received 143 awards from 33 countries including state honours from 10 countries. He also received the Nobel Peace Prize in 2006 and the 2020 Olympic Laurel award.

Professor Yunus has been stressing the need for a basic decision of 'No Going Back' to the old ways of thinking and doing. He proposes to create new roads to go to a new destination by creating a World of 3 Zeros — zero net carbon emission, zero wealth concentration for ending poverty once for all, and zero unemployment by unleashing entrepreneurship in everyone.