This event has ended.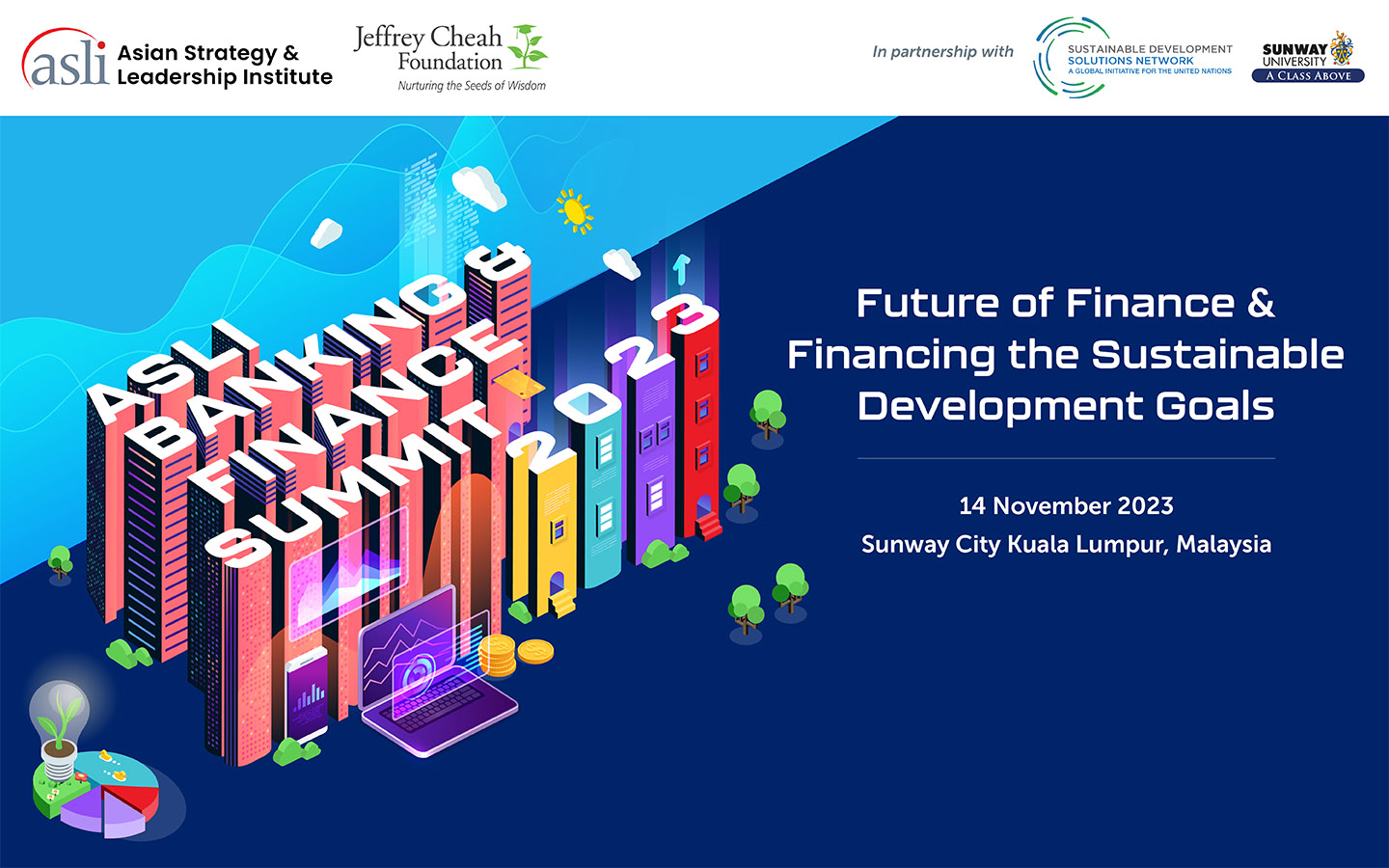 The ASLI Banking & Finance Summit 2023, dual-themed "The Future of Finance" and "Financing the Sustainable Development Goals" is jointly organised by the Asian Strategy and Leadership Institute (ASLI), the United Nations Sustainable Development Solutions Network (UN-SDSN) and Sunway University, supported by various esteemed banking and financial institutions. 
According to the UN's 2023 Financing for Sustainable Development Report, while SDG financing needs are growing, the pace of the development of financing is not. The significant rise in food and energy prices, along with the swift tightening of financial conditions have heightened hunger and poverty levels, undoing the previous progress made towards achieving the SDGs. Without appropriate measures, the continuing disparity in financial access and resources will result in a lasting sustainable development gap. Hence, the importance of financing in the context of SDGs cannot be underestimated. 
Additionally, demand for innovative financial products to fund everything from construction and development projects to community and local care needs, has led to an exciting albeit sometimes confusing and complex banking and finance landscape. Technological advancements, including Artificial Intelligence, blockchain, and cryptocurrencies have catalysed the imagination of financial service providers and enabled new players to enter the industry, yet the boon also has a bane as there many unknowns. 
As such, the ASLI Banking & Finance Summit 2023 aims gather top policy and private sector leaders and experts to discuss how to face the arising challenges while embracing the opportunities presented in this continuing journey towards achieving the 17 UN Sustainable Development Goals (SDGs) which aim to end poverty, protect our planet, and ensure prosperity for all.
Themes

The Future of Finance

The future is shaped by trends such as digital currencies and crypto, decentralised finance as well as advancements such as Fintech, artificial intelligence (AI) and Big Data.

The emergence of digital currencies such as Bitcoin and Ethereum has thrust blockchain technology into the limelight. With its secure, decentralised, and transparent nature, blockchain enables transactions with increased efficiency and diminished reliance on intermediaries. As such, central banks and governments are exploring the possibilities of central bank digital currencies (CBDCs) to digitise conventional currencies. These advancements will revolutionize our methods of transacting, storing value, and conducting financial activities.

AI and big data are changing the operational landscape of financial institutions. These technologies facilitate expedited and precise risk assessment, fraud detection, customer profiling, and personalised financial recommendations. Today, AI-driven chatbots and virtual assistants are increasingly prominent in customer service and financial advisory services. As AI continues to progress, it will assume a pivotal role in automating procedures and enhancing decision-making within the finance industry.

---

Financing the Sustainable Development Goals 

The significance of sustainability and social impact is expanding within the financial realm. Investors are further emphasising on environmental, social, and governance (ESG) factors when determining investment choices. This trend is anticipated to persist, with a heightened focus on sustainable investments, green bonds, and financial products aimed at driving positive impact. Financial institutions are expected to incorporate ESG considerations into their risk assessment frameworks and create novel financial instruments which align with sustainability objectives.

Securing adequate funding for the successful execution of the SDGs is crucial. The SDGs encompass 17 objectives targeting poverty, hunger, education, healthcare, climate change, and inequality. Realising these goals necessitates significant financial resources, which demand innovative approaches to financing of which international cooperation and partnerships play a pivotal role. This entails facilitating the exchange of knowledge, enhancing capacities, and transferring technology. By fostering collaboration among governments, multilateral development banks, private sector entities, civil society organisations, and philanthropic foundations, a wide array of resources and expertise can be harnessed to tackle development challenges.

Objectives

A platform for the exchange ideas, knowledge, and experiences on the latest developments in the field of banking and finance.
To deepen participants' understanding on how trends in consumer behaviours, technological innovation and regulatory regimes around the world can shape an ecosystem that spur financial inclusion among the underserved communities on one hand, and facilitate the ease of doing business on the other.
The summit aims to showcase thought leadership in the finance sector via keynote speakers and panel discussions. It also seeks to raise awareness on emerging trends and best practices to inspire and guide industry stakeholders.

Target Audience

A By-invite only event, we seek to welcome C-Suite, senior government officials, banking and finance industry leaders, innovators and entrepreneurs in new technology and sustainability fields, academics, youth, and regulators.
Schedule
8:00 am
Registration of Delegates Opens
9:00 am
Arrival of Invited Speakers and Guests
9:30 am
Welcoming by Danial Rahman, CEO, Asian Strategy & Leadership Institute (ASLI)
9:45 am
Opening Keynote Address by Dr Apurva Sanghi, Lead Economist for Malaysia, World Bank 
10:05 am

Panel 1: The Future of Banking & Finance
Moderator: Prof. Pervaiz Ahmed, Director, Institute of Global and Strategic Competitiveness, Sunway University 

Policy Considerations: Industry Trends & Opportunities
Prof. Yeah Kim Leng, Director, Economic Studies, Jeffrey Cheah Institute on Southeast Asia and Member, Advisory Committee to the Finance Minister (ACFIN)

Are Conventional Banks Worried About Their Future? Should they be? 
Dato' Muzaffar Hisham, Group CEO, Global Banking, Maybank 

Crypto and Digital Currency – Are They Here to Stay? 
Henry Chong, Founder & CEO, Fusang Exchange, Hong Kong 

Fintech and the Relevance of Digital Banking
Pei Si Lai, CEO & Managing Director, GX Bank Berhad

Panel Discussion followed by Q&A 

11:15 am
Tea Break
12:00 pm
Arrival of YB Rafizi Ramli, Minister of Economy Malaysia
12:10 pm
Welcoming Address by Tan Sri Dato' Seri SIR Jeffrey Cheah KBE AO, Chairman, Asian Strategy & Leadership Institute (ASLI)
12:20 pm
Keynote Address by YB Rafizi Ramli, Minister of Economy Malaysia 
1:00 pm
Lunch Break & Special Saxophone Performance by Eizaz Azhar, APEL Icon (Accreditation of Prior Experiential Learning), from High School Dropout to ASB-MIT MBA
1:45 pm
End of Lunch
2:00 pm

Special Showcases: Innovations & Entrepreneurs in Banking & Finance

Introducer: Foo Zhen Min, Community Curator, 42KL @ FutureX

Future Banking & SDGs: Personal Finance Amidst the Rapid Changes
Suraya Zainudin, Founder, Ringgit Oh Ringgit    

Unlocking Success Together: The Synergy of Banks and Fintech Uniting for SDGs
Soo Chin Kang, CEO, Sunway Money Sdn Bhd 

The Digital CFO: Where Did My Money Go?
Rouvin Thiruchelvam, Co-Founder & CFO, Swipey

2:45 pm

Panel 2: Financing the UN SDGs
Moderator: Nik Tasha Nik Kamaruddin, Chief Brand Strategy Officer & Sustainability Team Lead, Sunway Group and Deputy Chair, British Malaysia Chamber of Commerce (BMCC)

Achieving Net Zero Through Sustainable Financing Programmes for Businesses 
Jasper Wong, MD, Head of Real Estate & Hospitality and Construction & Infrastructure, Sector Solutions Group, United Overseas Bank (UOB)

Sustainable Cities & SDG Financing: Perspectives from Preah Vihear and Beyond 
HE Kim Rithy, Governor of Preah Vihear, Cambodia

Islamic Finance and Financing Sustainability 
Dr Hurriyah El Islamy, Founder, HGC Firm

Threats and Opportunities in ESG Disclosure: Avoiding Greenwashing
Kishan Jasani, Country CEO, Grant Thornton

Panel Discussion followed by Q&A

4:15 pm
Keynote: UN Sustainable Development Goals & Fiscal Sustainability 
HE Yeth Vinel, Under-Secretary of State, Ministry of Economy & Finance, Cambodia
4:35 pm
Closing remarks
5:00 pm
Afternoon Tea & End of ASLI Banking & Finance Summit 2023
This is a by-invitation event only. 
Kindly note that speakers & sessions topics may change.